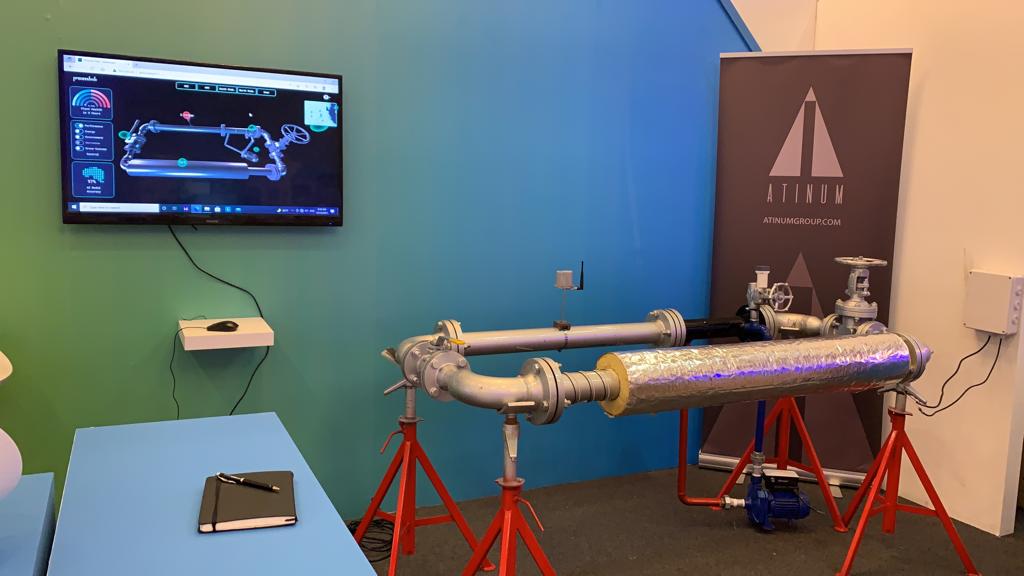 ATINUM Participates at Aramco's NAPD Ptex: Bringing Innovation to the Industry
One more milestone achieved by our group of experts to enable digital transformation. Taking part in the NAPD exhibition organized by Saudi Aramco, we were able to showcase our intelligent solutions to a group of NAPD engineers in the field of Oil and Gas. ATINUM aims to be a leader in the market of digital transformation, by that our services include providing the Oil and Gas industry with the essential technologies and Artificial Intelligence powered platforms that will allow them to make the transition into the 4.0 Industrial Revolution.
With IoT being an essential part of our provided solutions, during the event, we presented four of our most advanced technologies. The first solution was the use of IoT for spot monitoring, where sensors are placed on the surface of pipelines to measure wall thickness and send the readings to our integrated AI software, the ProcessHub, to present and predict real-time data and the future change in wall thickness. Additionally, our second solution consists of measuring corrosion under insulation (CUI) as IoT devices are placed beneath the insulation of pipelines to detect moisture and thereby indicate the occurrence of corrosion with the help of our AI algorithms. Another type of our intelligent sensor probes is further placed on assets to measure pipeline vibration and activate predictive maintenance to anticipate malfunctions. Finally, one of our unconventional IoT solutions is used to provide real-time readings of the temperature, vibration, sound, and engine heat of rotating equipment while also presenting them using our AI software.
Throughout the event, we further came to understand the industry's need to implement digital integrated solutions to support the operations in oilfields. A great number of the experts attending the event have emphasized the strong necessity for the oil and gas companies to utilize the use of digital twins and intelligent dashboards to oversee the plant's performance and conduct maintenance. It is indeed part of ATINUM's solution to enable industrial sites to gain full control over their activities using the ProcessHub, as the software is highly capable of creating digital twins of oil plants and fields while providing valuable insights on the productivity level of ongoing activities.
It is further part of ATINUM's vision to become a market leader in the intelligent movement of digital transformation and industrial automation. With our unique mix of industry knowledge and the partnerships we have with leading global technology providers, we look forward to assisting our clients within many industries to achieve business sustainability and growth. It is further our participation at the Aramco NAPD Ptex that gave us more insights about the market's need for automation solutions and how we can further enhance the operations of the companies of Oil and Gas.